Digital Programming
Let us bring history to you! Engage your students from home or in the classroom with virtual programs from Sainte-Marie among the Hurons.
SCHEDULE YOUR VIRTUAL SCHOOL FIELD TRIP
Scroll down for program content, grade suitability, program length, and fees.
Contact our Tour Coordinator: reservationshhp@ontario.ca
Please indicate the name of your school, your preferred date and time, the number of students participating and their grade.
LIVE ONLINE Q&A SESSION
(via Microsoft Teams or Google Meet):
Days: Tuesday to Friday
Times: 9:30 am or 1 pm
Duration: 45-60 minutes
COST & PAYMENT:
(Payment methods are listed further below)
$90 per program, per class (up to 35 students)
Payment is due within 7 days of your program date
Cancellation: 7 days prior to your scheduled program
PROGRAM OVERVIEW
Students will discover early Canadian history, through the exploration of culture-contact, with a three-part educational program, which includes an introductory video, offering students a tour of the 17th century mission village, a live question and answer session with a Museum Professional and follow-up activities to extend the educational experience beyond the live session.
During the virtual tour through Sainte-Marie among the Hurons, students will learn about its rich history as Ontario's first European community and the headquarters for the French Jesuit Mission to the Huron Wendat from 1639 to 1649. They will follow in the footsteps of early European settlers and learn how the Wendat people came to influence the lives of the newcomers.
This flexible, curriculum-linked virtual field trip is available for in-class or remote learning and is most suitable for grade 3 to 8 students. It is available on Microsoft Teams or Google Meet.
PROGRAM COMPONENTS
The program starts with an online look at Sainte-Marie among the Hurons
Follow in the footsteps of early European settlers and learn how the Huron-Wendat people came to influence the lives of the newcomers
Teachers are provided with a limited use link to the virtual tour video to be viewed in advance of the live Q&A session
Watch the program video together with your class or share the link with students who are learning from home
Your students can further explore specific topics by connecting with a history expert
Schedule a live video conference with one of our Program Staff for a more in-depth discussion about our historic site and the time period covered (1639 to 1649)
This is a great opportunity for your students to ask questions early contact between Indigenous Peoples and European settlers, learn of the many challenges faced by these different groups and how they overcame them
Help students connect concepts with in-class activities
Access activity sheets, suggested topics and questions for discussion, and other resources
Have a specific request? Contact us!
ONTARIO CURRICULUM LINKS
Social Studies, Grades 1 to 6: Strand A: Heritage and Identity
Grade 5: Interactions of Indigenous Peoples and Europeans prior to 1713, in What Would Eventually Become Canada
This program is best suited to students in grades 3 to 8
We customize the depth, focus and delivery style of this program to the grade and learning goals of your class
Please reach out to us if you have a specific topic related to Sainte-Marie among the Hurons, its time period (1639-1649) or its history you would like to address during your live session
Capacity is limited to one class (maximum 35 students) per program
Small groups ensure greater engagement between our presenters and students
Please make a separate reservation for each class
Spaces are limited and will be available on a first-come, first-served basis
The program is available on Microsoft Teams and Google Meets
Connect with us if you have specific audio-visual concerns or would like to schedule a test call
Due to restrictions from school boards, you will need to send your classroom link to our presenters the day before the start of your live session or at least 30 minutes prior
Instructions on how to invite presenters on Google Meet will be sent to teachers. Please take the time to review them.
After making your reservation, you will receive a confirmation letter with payment instructions and other important details.
Please notify us of any cancellations or changes at least 7 days prior to your confirmed Q&A session
Programs cancelled within one week of the session will not be refunded but may be rescheduled for a later date, subject to availability.
Payment must be received within 7 days of your live Q&A session
Please quote your reservation number from the confirmation letter you received, when contacting us or sending your payment
Our preferred payment method is by Visa or Mastercard over the phone by calling:
Matt Kelly at 705 433 1730
Other payment options include P.O. or cheque payable to: MINISTER OF FINANCE
Our mailing address: Sainte-Marie among the Hurons, 16164, Highway 12 East, P.O. Box 160, Midland, Ontario L4R 4K8
If you booked several programs close in date, payments may be combined to minimize transactions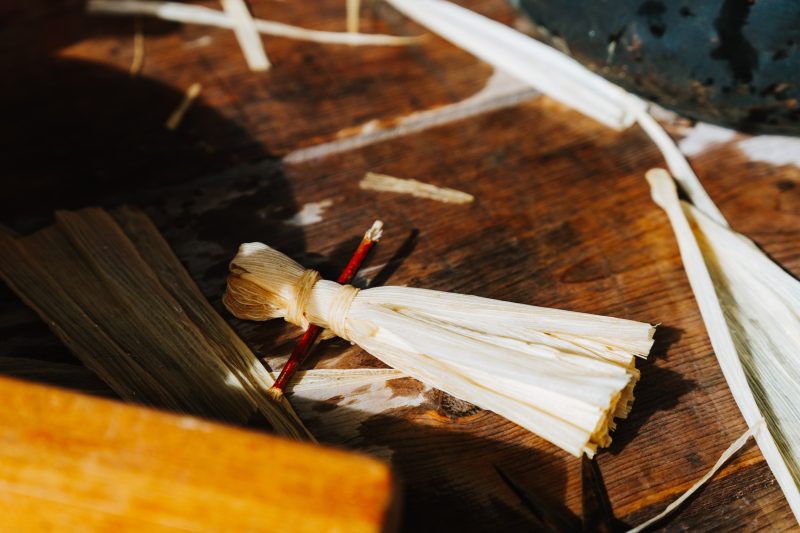 NEW! In-class (or at-home) Learning Kit
Order a kit to be mailed to your class or home, containing supplies for 30 students to complete three hands-on learning experiences:
plant the three sisters
play an Indigenous game
make a corn husk doll
You'll also be sent three 5-10 minute videos containing step-by-step instructions and historical background information for each activity.
Cost: $175
Grades: Ideal for JK to grade 3, but also appropriate for grades 4 to 6
Add-on or stand-alone: Order your kit as stand-alone learning experience, or as a way to complement the digital program described above.