National Indigenous Peoples' Day 2023
National Indigenous Peoples Day is a national celebration of the heritage, diverse cultures and outstanding achievements of First Nations, Inuit and Métis throughout Canada.
About National Indigenous Peoples' Day
Huronia Historical Parks is proud to be a part of highlighting the achievements of Indigenous peoples through our education-focused celebration each year. For generations, many Indigenous communities have celebrated their culture and heritage on or near this day due to the significance of the summer solstice as the longest day of the year. It has been a nationally-recognized day since 1996.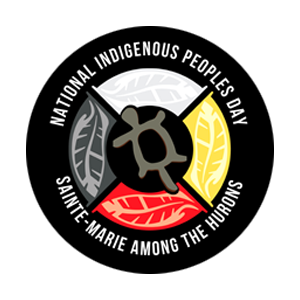 Dates & Times:
DATE: June 21, 2023
HOURS: 10 am to 5 pm
Special Event Rate: Admission is $12, tax included, per person. Contact mary.mandley@ontario.ca about admission rates for education programs. Children five and under are free. Indigenous persons are free with valid ID. Season pass holders get free admission.
Programming includes:
Drumming, singing and dancing demonstrations
Corn husk dolls and okies workshop
Canoe display and wigwam work
Garden and animal presentations
Lacrosse speed net testing
Legends in the longhouse
Survival in the bush
Interactive Treaties Map
Presentations include:
Waterway demonstration
Presentation in the hospital
Fire starting techniques
Indigenous Games
Indigenous art presentations
Join our team of presenters
Complete the National Indigenous Peoples Day Presenter Application Form!
Can't attend in person?
Check out the FREE online event! With workshops, seminars, and demonstrations by Indigenous experts, it's a great opportunity to learn about Indigenous cultures virtually. All you need to do is register!
Image Gallery:
Please click each image below to see a larger version.
Indigenous Artisans:
We invite Indigenous, Metis, or Inuit artisans & crafters to contact us to apply for a vendor space during this event. There is no vendor fee for qualifying applicants. Email mikaela.lefaive@ontario.ca or fill out our application form.
Educational Programming:
Help bring the achievements and diversity of Indigenous Peoples to life for your students! Bring your class to Sainte-Marie among the Hurons for a day of hands-on learning, fun, and discussion, or book a digital program and let us bring history to you.
Please note:
There is no introductory slideshow presentation in the theatre this year.
Our partnership with our third-party food services provider has recently ended and the restaurant is now closed for the foreseeable future.
Snacks and beverages will be available to purchase in our retail store, Flint & Timber Co. Picnic areas are available.
Season pass holders get free admission to this event.
Good to know:
Only service dogs will be allowed on-site during special events. Thank you for your understanding.
16164 Highway 12 East, Midland, ON, L4R 4K8
Parking Info
There is ample parking for visitors including those with RVs and buses. Please park in the parking lot provided and make your way to the admissions entrance. We also have bike racks available for cyclists coming from the Tay Trail.
Need more info?
Please contact us at hhp@ontario.ca or (705) 526-7838 if you have any questions.
Ontario's first European Community, Sainte-Marie among the Hurons was the headquarters for the French Jesuit Mission to the Huron-Wendat people. In 1639, the Jesuits, along with French lay workers, began construction of a fenced community that included barracks, a church, workshops, residences, and a sheltered area for Indigenous visitors. This community was abandoned and burned down in 1649.
After extensive archaeological and historical research, Sainte-Marie among the Hurons is now recreated on its original site, where the mission's compelling story is brought to life with costumed historical interpreters, demonstrations and hands-on activities.
Located near Midland, on the Wye River, this world-renowned reconstruction offers visitors a unique opportunity to see the earliest Canadian pioneer life through self-guided visits, group tours, interactive education programs, and special events. Complete your experience by exploring our interpretive museum and themed gift shop.
Interested in becoming a presenter at this event? Complete the form below!