Discoveries After Dark
An evening candlelit tour experience
What does a 17th century Jesuit mission look like in the dark? Find out! Join a small group of intrepid visitors on a guided evening tour of Sainte-Marie. Learn some of the historic site's secrets, take in some fascinating history, then warm up in the longhouse over historic teas and listen to Indigenous legends.
Join us for lantern-lit guided tours of historic Sainte-Marie among the Hurons! New dates to be announced.
Pick up a lantern and enjoy a guided walking tour of the 17th century Jesuit mission at night.
The tour experience is approximately two hours and will proceed in snowy or rainy weather, so please dress appropriately.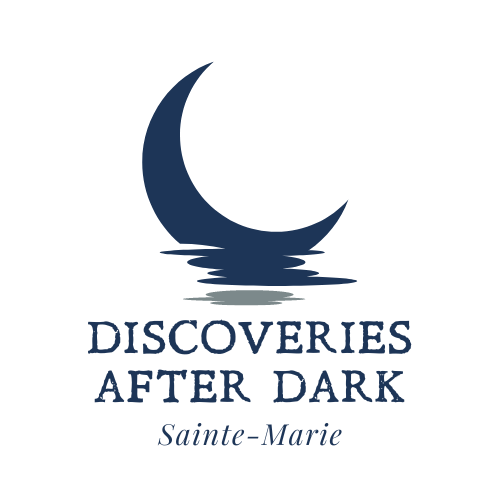 Dates & Times:
Dates: TO BE ANNOUNCED
Times: 6:30 to 8:30 p.m. (reservations required – minimum of 10 people needed)
---
Tickets Details:
Reservations required.
A minimum of 10 people is needed.
This event is not recommended for children under 10 years old.
Sainte-Marie/Discovery Harbour season passes aren't valid for this event.
Please note that Sainte-Marie's complimentary admission program for First Nation, Métis, and Inuit people does not apply to this event.
Please read the information found under "Plan Your Visit" below for more details including what to expect when attending Discoveries After Dark.
Image Gallery:
Please click each image below to see a larger version.
While we love our furry friends, we are not able to accommodate pets at this special event (service dogs are welcomed of course). Thank you for your understanding.
Doors will open at 6 p.m. The gift shop and museum will be open until 6:30 p.m. Please arrive 15-20 minutes early to allow time to complete payment at admissions.
This tour is not recommended for children under 10 years old.
If you face challenges with your lungs, or you have allergies to smoke, this tour may not be suitable for you as the longhouse can get a bit smoky.
Participants may wish to wear a mask for some/all of the tour. Some part of the tour are held inside historic buildings which have small footprints.
Each tour has a capacity limit of 25 participants and requires a minimum of 10 participants.
Lanterns will be provided; however, flashlights are permitted.
Taking photos is encouraged.
Smoking or vaping (including marijuana) is not permitted on Sainte-Marie property.
Light snacks will be available for purchase in the gift shop, however Restaurant Sainte-Marie is closed.
Please note this tour takes place mostly outdoors and, visitors should plan to dress according to weather conditions.
16164 Highway 12 East, Midland, ON, L4R 4K8
Parking Info
There is ample parking for visitors including those with RVs and buses. Please park in the parking lot provided and make your way to the admissions entrance. We also have bike racks available for cyclists coming from the Tay Trail.
Need more info?
Please contact us at hhp@ontario.ca or (705) 526-7838 if you have any questions.
Ontario's first European Community, Sainte-Marie among the Hurons was the headquarters for the French Jesuit Mission to the Huron-Wendat people. In 1639, the Jesuits, along with French lay workers, began construction of a fenced community that included barracks, a church, workshops, residences, and a sheltered area for Indigenous visitors. This community was abandoned and burned down in 1649.
After extensive archaeological and historical research, Sainte-Marie among the Hurons is now recreated on its original site, where the mission's compelling story is brought to life with costumed historical interpreters, demonstrations and hands-on activities.
Located near Midland, on the Wye River, this world-renowned reconstruction offers visitors a unique opportunity to see the earliest Canadian pioneer life through self-guided visits, group tours, interactive education programs, and special events. Complete your experience by exploring our interpretive museum and themed gift shop.